Welcome to the web page of Mary Grabar, Ph.D.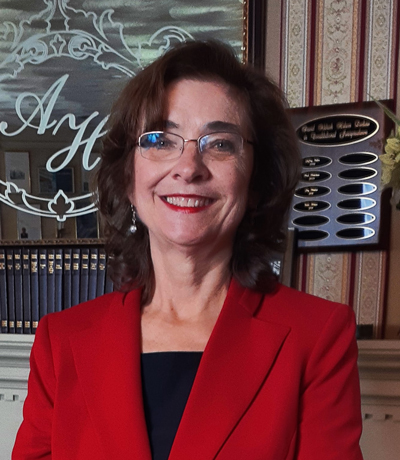 Mary Grabar, author, Debunking The 1619 Project: Exposing the Plan to divide America and Debunking Howard Zinn: Exposing the Fake History That Turned a Generation against America
Mary Grabar was born in Slovenia when it was still part of the Communist Yugoslavia and grew up in Rochester, New York. She earned her Ph.D. in English from the University of Georgia in 2002 and taught at a number of colleges and universities in Georgia until 2013.
While teaching, she wrote widely on political, cultural, and educational topics, and founded the Dissident Prof Education Project, a nonprofit reform initiative.
In 2014, she moved to Clinton, New York, and became a resident fellow at The Alexander Hamilton Institute for the Study of Western Civilization.
Debunking Howard Zinn: Exposing the Fake History That Turned a Generation against America was published by Regnery on August 20, 2019.
Praise for "Debunking Howard Zinn"
" It's about time someone published a comprehensive answer to Howard Zinn's bestselling A People's History of the United States, which is the Mein Kampf of the Hate America Left…. Mary Grabar has done Americans and the freedoms they have championed a great service by writing a definitive exposure of Zinn's treasonous life, along with a damning refutation of his dishonest, malignant, and ignorant work." — DAVID HOROWITZ, founder of Students for Academic Freedom and the David Horowitz Freedom Center and author of Radical Son: A Generational Odyssey and The Black Book of the American Left
" At long last we have a comprehensive critique of Howard Zinn's A People's History of the United States, an execrable work of pseudohistory, full of mistakes, lies, half-truths, and smears." — PETER A. COCLANIS, Albert R. Newsome Distinguished Professor of History and director of the Global Research Institute at the University of North Carolina at Chapel Hill
" Mary Grabar has produced a devastating analysis of the lies, plagiarism, violation of academic standards, and simple-minded platitudes that characterize Howard Zinn's best-selling A People's History of the United States…. as Grabar demonstrates, it has contributed to a serious and potentially disastrous misunderstanding of American history and society." — HARVEY KLEHR, professor emeritus of politics and history at Emory University and author of The Communist Experience in America
" Zinn's book has probably done more to poison the minds of high school students than any other work of history. Grabar provides an overdue anatomy of Zinn's many errors and tendentious interpretations of the United States as an evil, racist empire…. a much-needed antidote to one of the chief intellectual frauds of our time." — ROGER KIMBALL, editor and publisher of the New Criterion and author of Tenured Radicals: How Politics Has Corrupted Our Higher Education and The Long March: How the Cultural Revolution of the 1960s Changed America
"Mary Grabar's sober research and analysis are more than equal to Zinn's pretend history." — HERBERT W. STUPP, Washington Times
HERBERT W. STUPP, Washington Times
"a meticulous takedown of Zinn's lavishly selling, Hollywood-vaunted work of so-called history. . . . [with] nearly 1,000 footnotes, Grabar documents quite clearly and conclusively that Zinn is not only a plagiarist, but a liar." Joy Pullmann, The Federalist
JOY PULLMANN, The Federalist
"Mary Grabar definitively discredits America's top history textbook."
BRUCE BAWER, Frontpage Magazine
"Thank you for getting into this fight. Debunking is too soft a word. Your work properly destroys Zinn's deceitful approach," ~ email from David Shaw, a reader in Dallas, TX
"Mary Grabar's new book . . . does us the service of exposing the mendacious, non-scholarly character of this work. . . ." Richard Kirk, American Thinker
"The degree to which Zinn succeeded . . . is scary, and thus the need for Mary Grabar to write this expose."